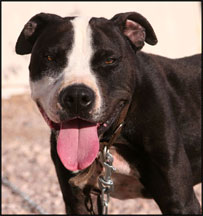 I HAVE A DREAM
I have a dream that I will rescue every dog that was dumped because someone didn't want him anymore, rescue every dog from people who betrayed the trust the dog had in them, and from people who don't appreciate the unconditional love and loyalty that only a dog can give them. I have a dream that I will open the largest dog rescue facility in the U.S. someday, where every dog will get help and no dog will suffer.
My friend was laughing at me, you are not Brad Pitt, and to do something like that will cost a lot of money. I told her, I believe that it could be done; if I could be Brad Pitt, I would open a dog rescue facility, like he did. Because I don't have Brad Pitt's money, I can only make this happen if dog lovers throughout the U.S. donate a dollar or two. I will do anything to make my dream "I Have a Dream Dog Rescue Shelter" come true.
My friend opposed again; "Wrong timing, bad economy, who cares about dogs when people suffer and need help, who would want to help dogs?"
My response? "Now is the time!" There are shocking stories about dogs left in foreclosure houses that were starving to death and others found close to death still waiting for their masters to come home to feed them and pet them, but they will never come!

Today, more abandoned dogs are wandering the streets than ever before. Now is the time to do something about it.
There was a recent story about a German Shepherd puppy who was found exhausted, close to death and dehydrated lying in a ditch still holding his tennis ball in his mouth. It was after Christmas, people purchase a puppy for their kids as a Christmas gift, and when they find out that they have to take care for the puppy, feed him and clean after him…. they just get rit of him easy way. This is what probably happened to this pup. Somebody drove him far away from home, took him out of the car and tossed him his favorite toy. Here boy: "Fetch it!" When puppy was running after his tennis ball, they jumped into the car and drove away. This obedient puppy was running after the car to bring his master his tennis ball…. until total exhaustion. Yes, some people are cruel like that.

I believe that we can help these wonderful animals start a new life again with better guardians, but only if we all work on the project together. Strength in numbers. I believe that every dog deserves happy life.

Now is the time….abandoned and unwanted dogs need our help more than ever. They can't speak; they can't look for a new owner. Shelters are constantly full, and hundreds of dogs are killed every day. We can help people as well. There will be many people needed in order to run a large rescue shelter like this one. We would need to employ a lot of people to work on our "I Have a Dream Dog Rescue" project and we will help our economy as well.
Now is the time! Because, here in Arizona the land is available at amazing low prices, and people are willing to work for less than ever before. We placed an ad in the local newspaper to find out if people would be interested in this project and yes, there are many people who are looking for work or even want to volunteer! There are shelters all over the U.S. already, but many people who run these rescue shelters are wasting too much money on sending letters to prospective donors, and paying themselves high wages.
How You Can Help?

We have already started. I put $1,000 from my pension savings into the Rescue Fund, and from each puppy or dog that we sell; we will put an additional $100 towards the Rescue Fund.

If you want to help us to build the "I Have a Dream Dog Rescue", please click on "Donate" button and send your contribution to the Rescue Fund.
There is no minimum amount you can donate. You will receive a progress e-mail every month, so you can monitor how our fund is growing and when we will be able to start building the shelter. For donors with higher contributions we will post your name and the amount you donated on our website (with your permission of course). For anyone interested in sponsoring the "I Have a Dream Dog Rescue" project, we put a banner with your name and company name on our website, as well as free ads on our future YouTube videos.
NOW IS THE TIME!

LET'S RESCUE HUNDREDS OF DOGS TOGETHER!